"HABITATS"
---
With "Habitats", NILS-UDO creates an installation reflecting the Maison's commitment to biodiversity.
Three sculptures made of wood and grapewines stand in the middle of the Taissy vineyard. This historical parcel of the Ruinart vineyard is the site of a pilot project of vitiforestry which aims to reintroduce the local fauna and flora. To do this, vines and shoots have been removed from the vineyard to make way for ecological corridors and hedges have been replanted.
The artist symbolically invests this space: he takes hold of the vines and shoots of the removed rows, to create "Habitats. Crowned with nests of vine shoots, these installations are gifts to nature that invites birds, bees, caterpillars, butterflies and ladybirds to find shelter.
Life in the vineyard is regenerated with the help of these monumental creations.
A PILOTE PROJECT IN VITIFORESTERY
AT TAISSY, ON THE MONTAGNE DE REIMS
---
In the vineyard of Taissy, labelled High Environmental Value and Sustainable Viticulture in Champagne since 2014, the Maison devotes all of its 40 hectares to a pilot project for biodiversity.
It implements a set of agroforestry practices to the vineyard, associating trees, vines and wildlife on the same agricultural plot.
Hedges have been planted around the edge of vineyard and in between the plots, to form islets.
Since 2021, more than 12,000 trees and shrubs have been planted, mostly local species such as hornbeam, hawthorn, dogwood, beech, willow, rowan, spindle, viburnum and oak. It is in the heart of this plot that NILS-UDO has installed his "Habitats".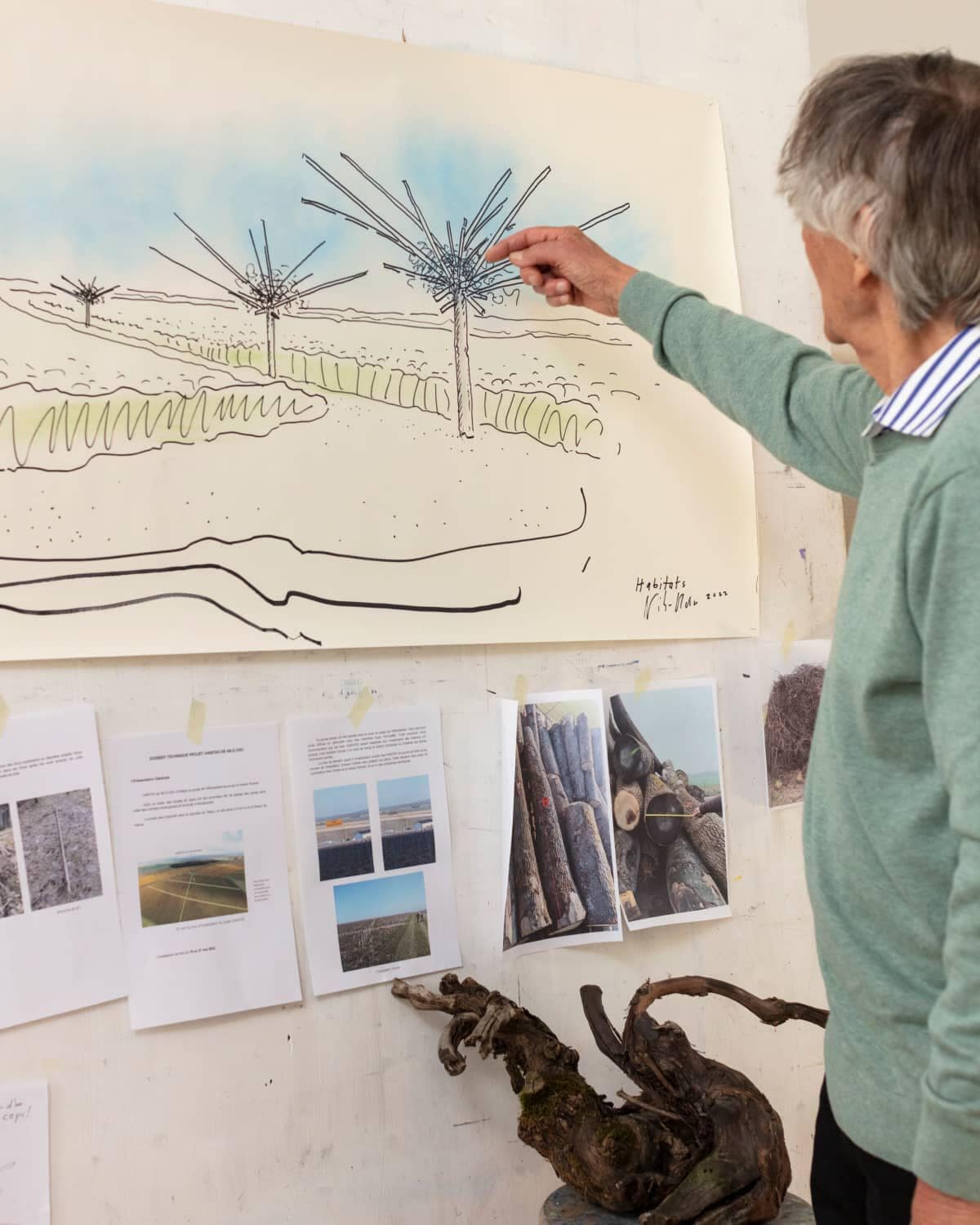 NILS-UDO
PAINTING IN AND WITH NATURE
---
Born in Bavaria in 1937, NILS-UDO studied graphic arts, but quickly turned away from painting which he considered artificial. He began to "draw with flowers, paint with clouds and write with water."
Since the early 1970s, NILS-UDO has been working in and with the landscape, creating ephemeral works of art which he immortalises with photography. The artist draws his inspiration from new vegetation, new topography and uses these materials such as petals, leaves and branches to compose his works.
In 1978, he created his first "Nest in the Lüneburg Heath". The self-portrait taken in the heart of the elementary structure, is the only self-portrait to date. The Nest, a favourite theme, has since given rise to a multitude of mineral and vegetal variations depending on the materials used, from bamboo to wicker, branches, and stones.
Since 2004, NILS-UDO has taken up his paint brushes again and, in parallel to his in-situ installations and photographic work, he now also creates abstract paintings. Ruinart shares with Nils Udo this vision of a tight connection between people and nature.
COUNTDOWN
---
Maison Ruinart will be celebrating its 300th anniversary in 2029 with a commemorative countdown strongly focussing on art.
From the first artwork commissioned from Alphonse Mucha in 1896 to current support for emerging artistic talents, the oldest champagne house has always fostered a strong connection with contemporary art.
From now until 2029, 10 artworks will be installed in the heart of the Maison's historic terroir, enriching its symbolic heritage through a dialogue between art, nature and technology.
DISCOVER
In the heart of the crayères, the artists duo Mouawad Laurier has created a visual and sound experience.
Argentine artist Tomás Saraceno illustrates the impact of climate change on the vine through the flight of an Aerocene.
In September 2029, Ruinart will be celebrating its 300th anniversary. Each year from now on, Ruinart will commission a new artistic or architectural project in Reims.