EACH CHAMPAGNE HAS ITS OWN TASTING TEMPERATURE
---
The ideal temperature for drinking Ruinart Blanc de Blancs, Ruinart Rosé and Ruinart Brut champagnes (non-vintage) is around 8°C. Below this temperature, the wine is too cold, which limits the perception of its aromatic intensity.
For Dom Ruinart Blanc de Blancs and Dom Ruinart Rosé (vintage), the serving temperature is slightly higher, between 10 and 12°C, which allows the full complexity of their aromas to be released.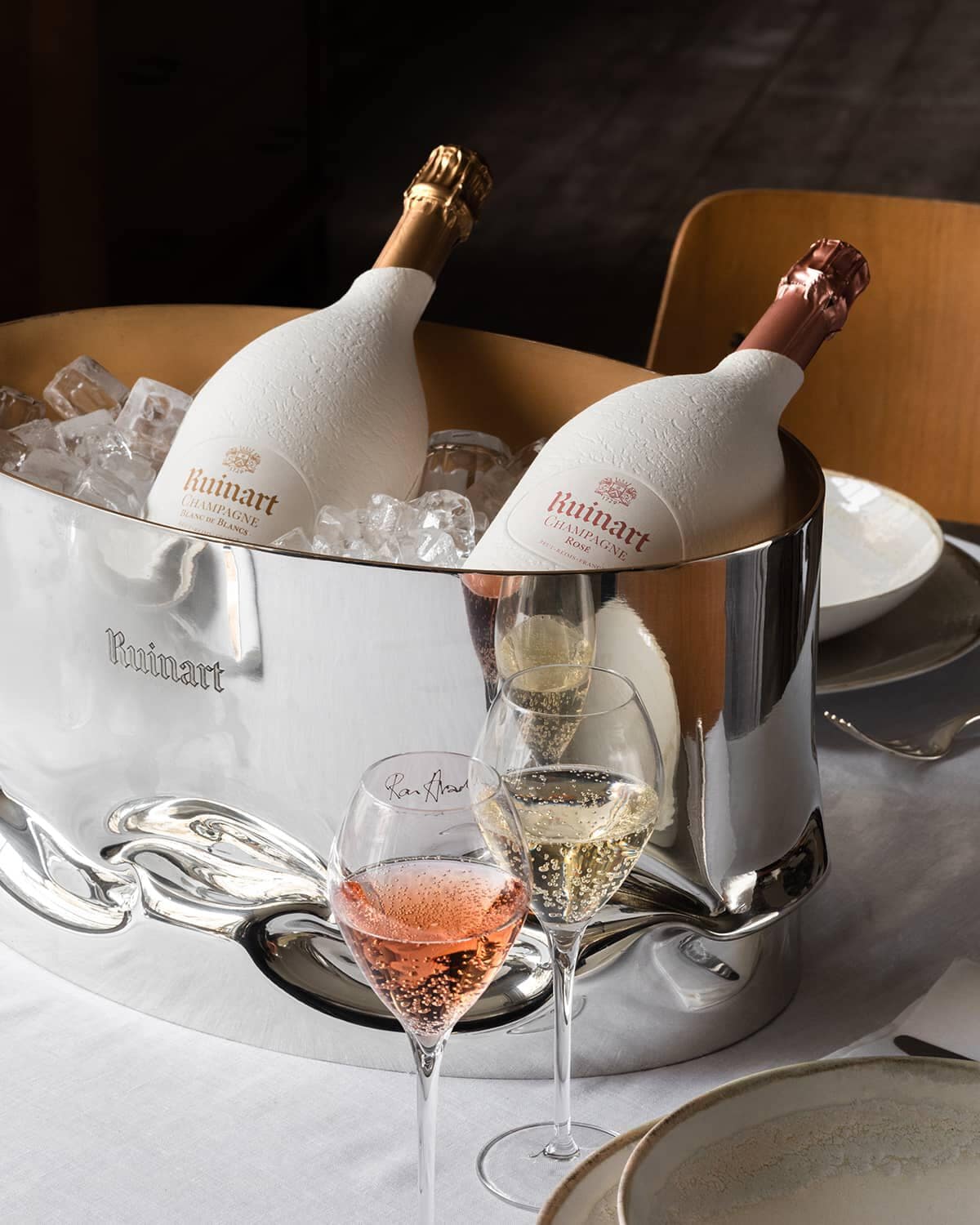 HOW TO GET THE IDEAL SERVING TEMPERATURE?
---
In a champagne bucket
Place the bottle in a champagne ice bucket for 30 minutes, with 1/3 water, 1/3 ice cubes and leave the content of water and ice 1/3 of the rim. The cooling process will then be gradual, protecting the quality of the wine as it adjusts to the appropriate temperature.
In the refrigerator
Place the bottle in a horizontal position in the refrigerator 45 minutes before serving the champagne to refresh it.
For more information on bottle storage, please visit the page "How to store champagne?"
SECOND SKIN CASE SUPPORTING TASTING
---
In addition to preserving the integrity of the Ruinart taste until opening, the second skin case also ensures that the wine stays fresh longer. It protects the champagne from the humidity of a champagne bucket or refrigerator.
In a champagne bucket
The temperature is maintained for 45 minutes longer if the bottle is immersed in a bucket filled with ice with its case on. The case can remain submerged for up to 3 hours without losing its shape. It can then be reused up to 4 times.
In the refrigerator
The temperature is maintained for an additional 20 minutes if the bottle has been placed in the refrigerator with its case. It can then be reused up to 7 times.
The eco-designed box is a 99% paper envelope, recyclable and moulded to the shape of the bottle.
Serving champagne requires precise gestures. Discover the steps of the Ruinart service ritual.