SHARED ROOTS
---
In 2019, Ruinart gives Carte Blanche to Vik Muniz to pay tribute to the Maison's legacy.
A multi-talented artist, Vik Muniz created a series of works inspired by the idea of flow, which is based on vine stock represented with pieces of blackened wood and charcoal. He also brought new life to leaves of chardonnay vines – the emblematic grape in the Ruinart taste – mixed with other natural elements found in the Sillery vineyard. Vik Muniz believes that the more difficult the path, the better the result. Given the beauty of his creations, his path must have been very challenging indeed.
The artist set out to express through his works what couldn't be conveyed using language.
VIK MUNIZ
THE PORTRAIT OF THE ARTIST
---
Vik Muniz is an all-round artist. He uses many different media for his works: photography, sculpture, video and various materials,
Vik Muniz's artistic approach is based on the use of various materials - chocolate, linen thread, dust, sugar, ketchup, garbage, diamonds, caviar, flowers... - to conceive images that often refer to classical painting, which he photographs to produce his final work.
His artworks constantly question our relationships with reality and memory.
Defining himself as a "Low-tech illusionist", the artist explores our collective memory in order to question it more effectively.
THE LIMITED-EDITION JEROBOAM CASE
---
Vik Muniz has designed a limited-edition jeroboam case with a 3L bottle of Ruinart Blanc de Blancs.
Each of the 30 numbered editions bears the signature of the artist. The bow features an image that Muniz designed as part of his Maison Ruinart "carte blanche" series, for whoch he reproduced vine stocks using blackened wood and charcoal.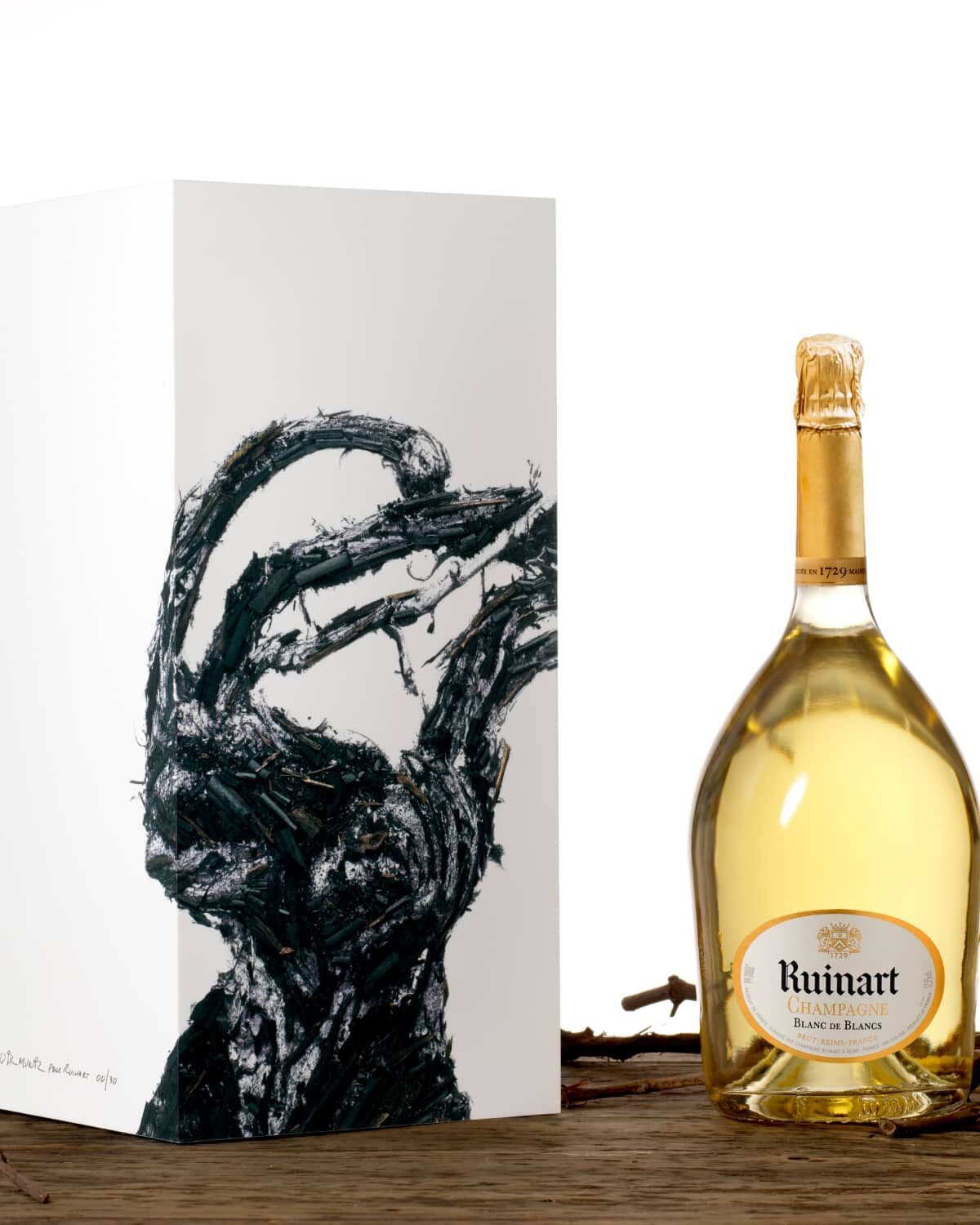 CARTE BLANCHE
---
Trustful that art can enlighten and connect us across time and places, Ruinart gives Carte Blanche to leading contemporary artists to pay tribute to the Maison's legacy.
Chosen for their commitments to sustainability, the artists are invited to Reims for an immersive journey to discover the Maison, its vineyards and its Crayères. They then share their vision of the work in the vineyards and the elaboration of the wines. Their artworks echo Ruinart's values, raising awareness about climate change.
The unique and long-lasting relationship between Ruinart and the Arts goes back in 1896, when André Ruinart commissioned Czech artist Alphonse Mucha to create a poster that would embody the Maison.
DISCOVER MORE
Jeppe Hein imagined an artistic installation that translated his sensorial journey at Maison Ruinart in Champagne.
Fixing his gaze upon the Maison, David Shrigley allows us to rediscover Ruinart with his quickly and uncompromising humour.
The Chinese artist Liu Bolin produced 8 works that reveal the invisible taks humans undertake to produce the Maison's cuvées.