INGREDIENTS
---
4 medium-sized scallops
1 green-meat radish
1 kombu
100ml of rice vinegar
50g of semi-thick cream
25g trout eggs
1 lemon caviar
5g dehydrated nori
½ lemon
25g sugar
5g of salt
Olive oil
Fleur de sel
50ml of water
DOWNLOAD THE RECIPE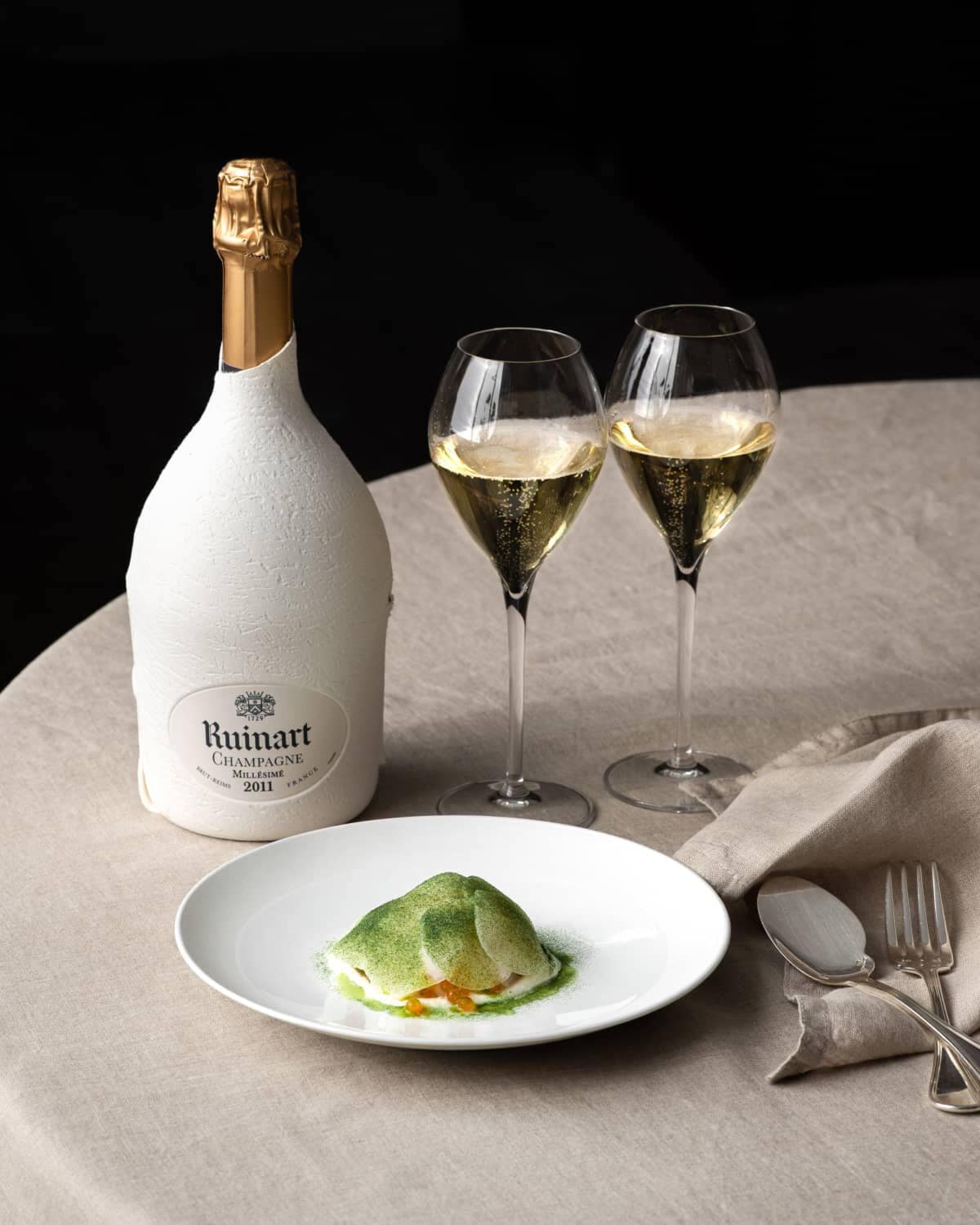 A RECIPE TO BE PAIRED WITH
THE RUINART BRUT 2011 CUVÉE


---
Antonin Bonnet explains:
"The idea is to offer a sophisticated and balanced recipe, which gains in momentum to reach a crescendo. However, it remains technically accessible and will certainly allow any budding cook to have fun, as advertised.
For the recipe, I wanted a pair the meal with a champagne first focusing on a taut and salty opening to give way to complexity and fruity notes. The product choices are in accordance with the season."
ANTONIN BONNET
---
Antonin Bonnet grew up in the Lozère region of France; his mother raised goats and produced cheese. The family vegetable garden awakened his taste buds early on, and spurred a direct relationship with nature that has unceasingly influenced him. After working at the restaurant Oustau de Baumanière in Baux de Provence, followed by an experience with chef Michel Bras in Laguiole, he moved to Paris. In the discreet rue de l'Abbé Grégoire, he established a Michelin-starred restaurant—Quinsou—and a butcher's shop—La Boucherie Grégoire—which foster an intelligent exchange between ethical sourcing and gastronomy.
The harmonious balance of Ruinart Brut combines fresh chardonnay with well-structured pinot noir, and fruity meunier.
The tart ringed with vegetables and goat cheese recipe by Valérie Radou, chef at Maison Ruinart, to be made at home.
Every weekend, Maison Ruinart invites you to its table for an exceptional brunch made of local products.