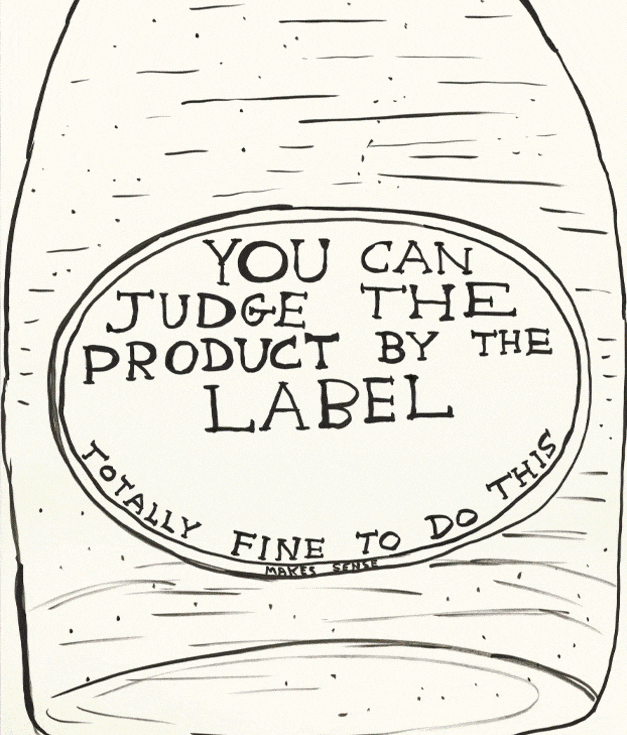 UNCONVENTIONAL BUBBLES
---
David Shrigley applies his unique take on Maison Ruinart across an ensemble of 42 artworks.
The British artist presents Ruinart's legacy with an offbeat and unrelenting sense of humour.
His art shines a new light upon the vineyard, the heritage and the know-how of the Maison. Through his drawings, neons and sculptures, he offers up a journey that is at once welcoming and singular, provoking surprising conversations about nature and the wine-making process.
His committed works also raise our awareness of the environmental challenges that motivate and animate Ruinart on a daily basis.
DAVID SHRIGLEY
THE PORTRAIT OF THE ARTIST
---
David Shrigley is a British artist whose rudimentary but unmistakable line is used to observe his surroundings with incomparable irony, often accompanied by an absurd and irreverent sentence to challenge us and get our attention.
Humour - be it naive or noir - is his instrument of choice and wielded with great precision.
While drawing is at the center of his practice, the artist also works across an extensive range of media including sculpture, large-scale installation, animation, painting, photography and music.


LIMITED EDITION OF JEROBOAM
---
As part of his Carte Blanche, David Shrigley designed a limited edition creative artwork for a jeroboam of Blanc de Blancs.
A collector's item, each of these 30 boxes is numbered and signed by the artist. It is embellished with a draughtboard, referencing one of the drawings the artist created for Maison Ruinart.
The coffret also has a functional purpose, by metamorphosing into a champagne bucket for an elevated tasting experience.
THE UNCONVENTIONAL GALLERY
---
Maison Ruinart has designed an e-gallery to showcase David Shrigley's artworks, offering visitors the experience of discovering his creations from the comfort of their own homes. Thanks to this immersive digital gallery, discover the drawings, ceramics, paintings and neon lights created by the artist as part of the Carte Blanche program.
DISCOVER THE VIRTUAL EXPERIENCE
CARTE BLANCHE
---
Trustful that art can enlighten and connect us across time and places, Ruinart gives Carte Blanche to leading contemporary artists to pay tribute to the Maison's legacy.
Chosen for their commitments to sustainability, the artists are invited to Reims for an immersive journey to discover the Maison, its vineyards and its Crayères. They then share their vision of the work in the vineyards and the elaboration of the wines. Their artworks echo Ruinart's values, raising awareness about climate change.
The unique and long-lasting relationship between Ruinart and the Arts goes back in 1896, when André Ruinart commissioned Czech artist Alphonse Mucha to create a poster that would embody the Maison.
DISCOVER MORE
Jeppe Hein imagined an artistic installation that translated his sensorial journey at Maison Ruinart in Champagne.
The Chinese artist Liu Bolin produced 8 works that reveal the invisible taks humans undertake to produce the Maison's cuvées.
For the Carte Blanche program, the Brazilian artist Vik Muniz shares his reinterpretation of the Maison and its relationship with nature.