HARMONIOUS BALANCE
"Every year, my team and I have to recreate the recipe of Ruinart Brut to perpetuate its taste, while adding a touch of contemporary innovation."
Frédéric Panaïotis, Maison Ruinart Cellar Master.
CÉPAGES GRAPE VARIETIES & TERROIRS
Ruinart Brut is a harmonious champagne, produced from a blend of pinot noir (40–45%), meunier (10–15%) and fresh chardonnay (40%). Created from 40–50 different crus from the terroirs of Côte des Blancs and Montagne de Reims.
Harvested by hand
A blend of 40–50 crus including 20–30% reserve wine kept from a range of vintages
Alcoholic fermentation in temperature-controlled stainless steel vats
Malolactic fermentation
Aged in cellars for 2–3 years
Dosage: 7 g/L
Contains sulphites
Alcohol content – 12% Vol.
COLOUR
Ruinart Brut sparkles in chestnuts, yellows and golds.
THE NOSE
First impressions reveal subtle fruity notes of reinette apples and apricots, along with fresh almonds and hazelnuts. Hints of elderflower and coriander seed add a touch of complexity. Second impressions create room for intense aromas of brioche and biscuit.
PALATE
Sweet notes of golden fruit, plum tarts and ripe drupes develop in the mouth. The palate is enveloped in harmonious and persistent roundness. The finale reveals the distinctive freshness of chardonnay.


PAIRING SUGGESTIONS
---
Resident Chef Valérie Radou and Cellar Master Frédéric Panaïotis recommend pairing this champagne with vegetarian cuisine and cheese. Discover their recipe for a Seasonal Vegetable and Goat's Cheese Tart.
Yellow and green courgettes – Carrots – Fresh goat's cheese – Ricotta – Thyme
DISCOVER THE RECIPE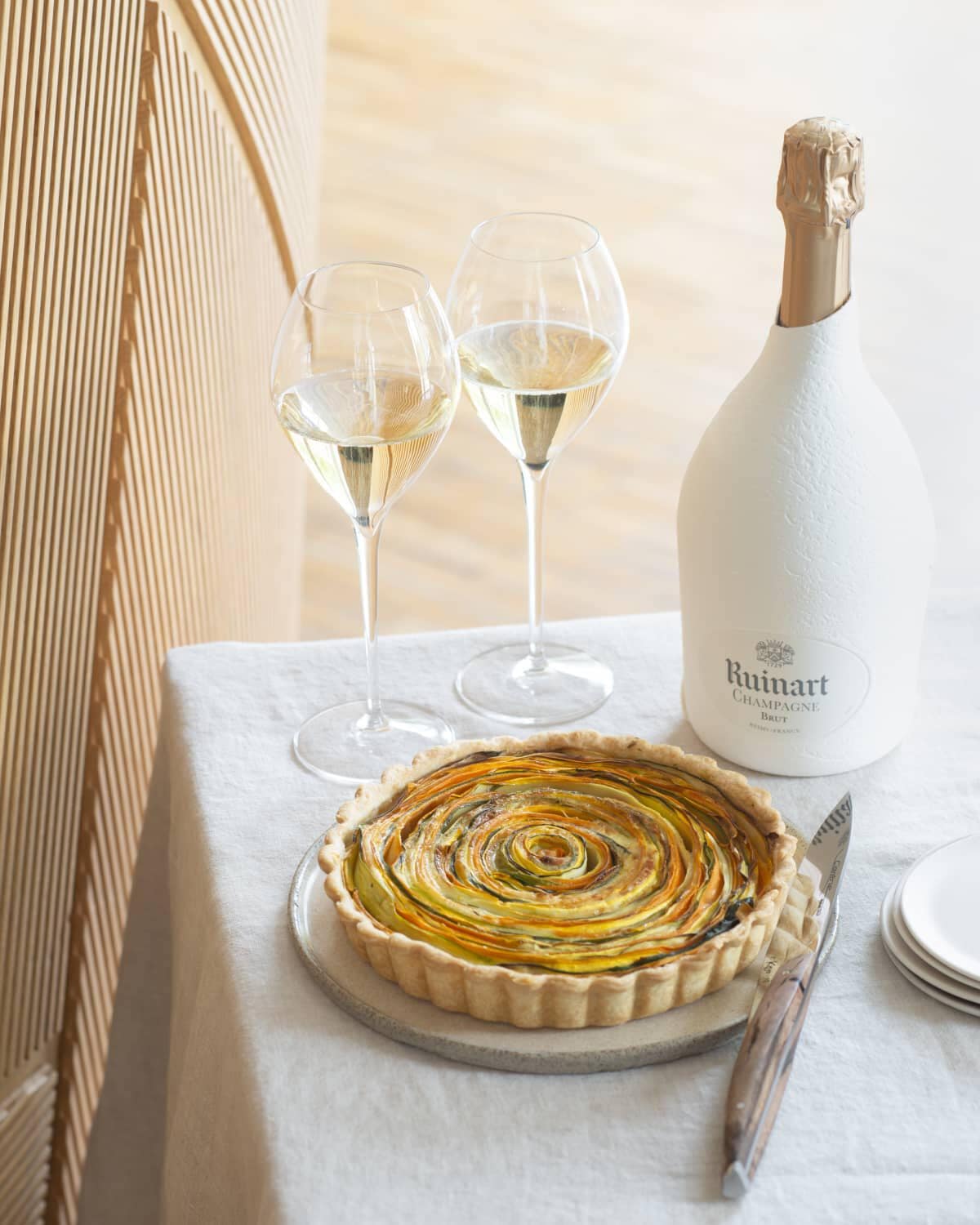 THE RUINART SERVING RITUAL
THE SECOND SKIN CASE: SUSTAINABLE DESIGN INNOVATION
In 2020, as part of its continuous approach to sustainable design, Maison Ruinart committed to substitute all single boxes with its second skin presentation case, which is nine times lighter than its predecessor. This recyclable case is moulded to the shape of the bottle and reduces its carbon footprint by 60%.
The elegant case can be conserved until the bottle is served, protecting all of the Ruinart taste by shielding the champagne from exposure to the light. Suitable for cellar and refrigerator storage, this innovative design withstands ice bucket humidity and adds a new dimension to our serving ritual.
DISCOVER OUR SUSTAINABILITY
Dom Ruinart Blanc de Blancs 2010 celebrates our union with nature. Extending the ageing of this exceptional vintage enhances the champagne's complexity.
Ruinart Blanc de Blancs is a delicate cuvée with a fresh, well-rounded nature, made exclusively from the Maison's signature chardonnay grapes.
Ruinart Rosé combines our signature fresh chardonnay with the fruitiness of pinot noir. It's the fruity expression of Ruinart taste.