This summer, Maison Ruinart is inviting you to a summer dinner cooked on the brasero by Chef Gabriel Ossard.
DISPONIBILITY
July 27 and 28; August 24, 25 and 31; September 1
Limited number of places
By reservation only
Minimum of 4 people per booking
Format
Experience begins at 7 or 7:30pm.
If weather conditions are not favorable, the event can be held in one of the Maison's dining rooms.
Price
Adult: €160
Children: €120
Possibility of booking a tour of the crayères before enjoying your dinner for an additional €35 per person.
---
Enjoy a gastronomic experience cooked on the brasero in the Maison's main courtyard. The menu will be accompanied by 2 glasses of champagne of your choice: Ruinart R, Ruinart Blanc de Blancs, Ruinart Rosé and R de Ruinart 2016.
Other cuvées will be exceptionally available on the menu, including the new cuvée Blanc Singulier and the prestige cuvée Dom Ruinart Blanc de Blancs 2010.
Reservations required - €160 per person
July 27 and 28, August 24, 25 and 31 and September 1st.
If you have any special dietary restrictions, please let us know when you make your reservation.
Book your table


THE MENU
---
Chef Gabriel Ossard offers a 5-course menu:
Brazier-baked marrow bone, peas, grapes and fresh herbs; stuffed globe artichoke to share
Fish stuffed and grilled with chardonnay vine shoots; warm salad of grilled zucchini, chanterelles and peaches cooked in a cockle marinière
Beef marinated in tomato; heirloom tomatoes in mosaic and black cherry vierge
Cheese platter and brazier-grilled bread
Rustic seasonal fruit tarts and mocha chocolate tart
BOOK YOUR TABLE


---
Take advantage of your visit to Maison Ruinart to tour the chalk pits accompanied by a Maison ambassador guide.
Tours are available at 6pm or 6:30pm, depending on the time of your dinner reservation, and cost €35 per person. Reservations on request at: visitesruinart@ruinart.com.
PREPARE YOUR VISIT
---
Maison Ruinart
4 rue des Crayères, Reims
France
By car: Take the A4 exit for Reims/Saint Rémi heading towards Luxembourg. Parking is available on weekdays after 4:00 p.m. and at weekends.
By train: Get off at Reims Centre or Champagne-Ardenne TGV station.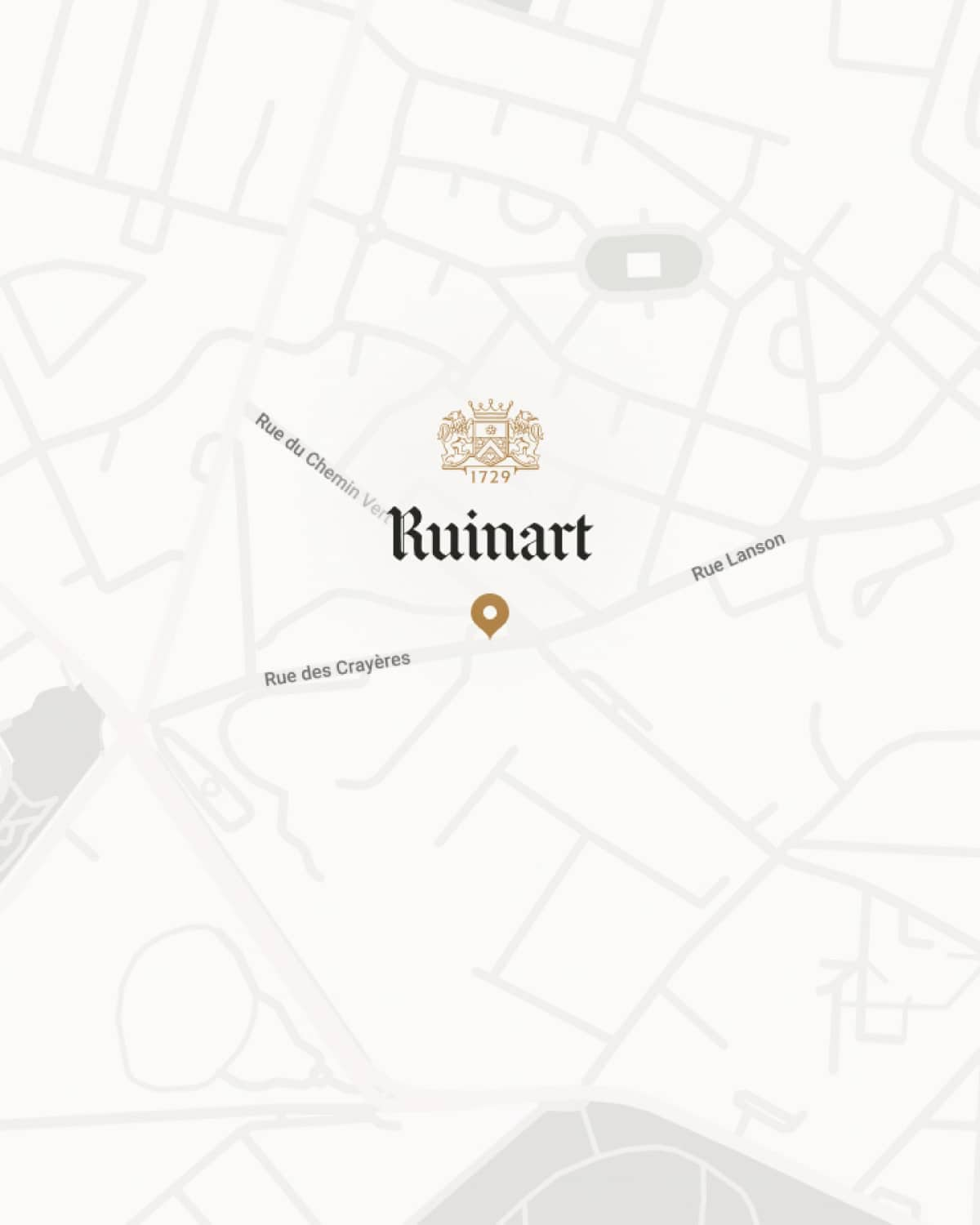 Please contact us at visitesruinart@ruinart.com if you need any information or contact a member of our team on: +33 (0)3 26 77 51 52.
In Reims, on its historical site, the Maison Ruinart welcomes you for the organisation of tailor-made events.
Explore the Maison Ruinart Crayères. These natural chalk cellars are a UNESCO world heritage site.